The Spa at South Lodge
Located in Horsham West Sussex, The Spa at South Lodge is a purpose-built spa within the grounds of an award winning 5 star hotel.
Felce and Guy were commissioned to provide a full Architectural design for a new luxury Spa facility, before being appointed as lead consultant and contract administrator to oversee the construction. We entered into an extensive design process with the hotel, initially identifying a range of facilities to provide, including: an indoor swimming pool, external vitality pool, Spa treatment rooms, restaurant, poolside catering, gymnasium, and external heated swim pond. With a program established we proposed design solutions to balance the specific needs of the hotel with the sensitivity required to deliver a project of this scale in close proximity to the original hotel.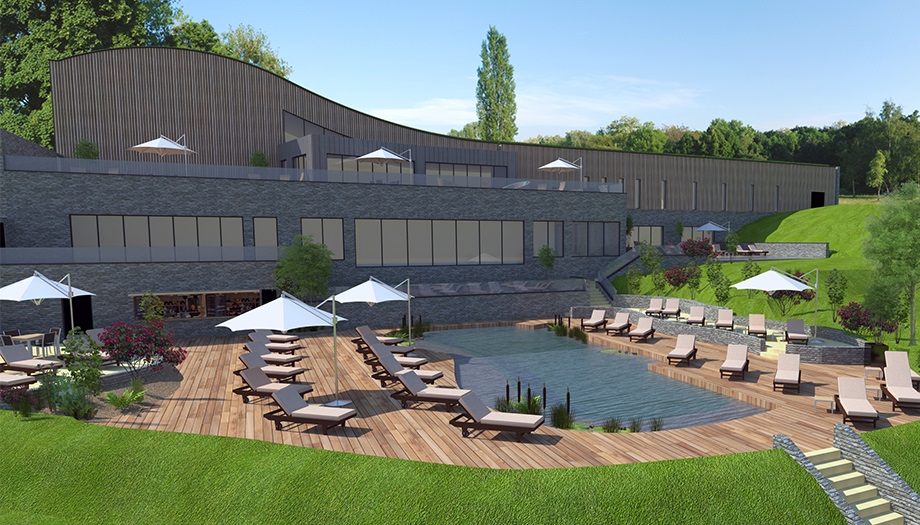 The resultant architecture sympathetically responds to the natural beauty of the surroundings; setting the building into the landscape with a curving meadow-grass roof; maximising views over the South Downs; and as the landscape falls away, leading to natural water forms, so too does our new building with external terracing leading onto a vitality pool and external swim pond.
In addition to the meadow-grass roof, which helps to attenuate rainwater flow, the new building was designed to benefit from other sustainable technologies: it is served by a biomass boiler system; all drainage is contained on site, using reed bed technology; and the existing ponds within the hotel grounds have been modified and added to, benefitting the local ecology. Work completed on site in March 2019.
Follow the below links for further information and press:
https://www.theargus.co.uk

https://goodspaguide.co.uk

https://www.platinumpublish