After being refused planning permission for the erection of a new house on the narrow vacant plot, the site owner approached Felce and Guy to evaluate alternative design options.
As over the years there had been a number of refused applications and appeals, both the local planners and estate agents had advised that it was probable the site would never receive planning permission.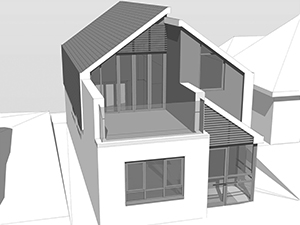 Upon our appointment, we worked with the client and local planners to develop a contemporary scheme that addressed the specific challenges of the site and that was subsequently granted planning permission.
The planning report described the scheme as "a well designed scheme; a building that would add some visual interest, whilst fitting well into its context".