River Ouse Plot, Barcombe Mills
Felce and Guy were commissioned to design a new four bedroom house to replace a badly fire-damaged dwelling on the bank of the River Ouse.
Flooding Risk Flood Zone 3
The site had been granted outline planning permission to replace the property with a similar building. Our design had to respond to the conditions stipulated by this permission, including scale, siting within the site and the need to address the issue that the site is at risk of flooding (Flood Zone 3).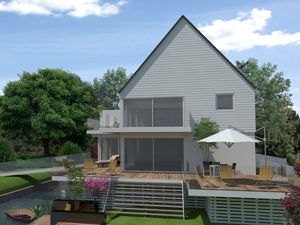 We developed a contemporary solution, considering the building form, size, materials and the sensitivity of the setting. Planning Permission was granted in March 2016, after which we developed the building regulations and construction drawings. Work commenced on site in Autumn 2016 and completed during the Summer of 2017.